In this video, our Senior Account Executive Mike explains how to withdraw your cryptocurrency or fiat from the Kinesis platform.
Make sure all your details are set up correctly to ensure the successful withdrawal of your funds into your personal bank account or another platform.
Kinesis currency holders are fully entitled to redeem the underlying bullion that the KAU & KAG are based on, subject to minimum withdrawal requirements.
Withdraw KAU & KAG from an account
1. Click on the 'Assets' tab from the left-hand navigation panel.
2. Select the currency you wish to deposit funds to, in this example KAU, from the top navigation bar, then press the "SEND" button.
3. The withdrawal screen pop-up will display the amount of KAU you would like to send, along with the approximate USD value. You can continue to enter the quantity of KAU and insert the KAU address you wish to send funds. You can also enter an optional reference message.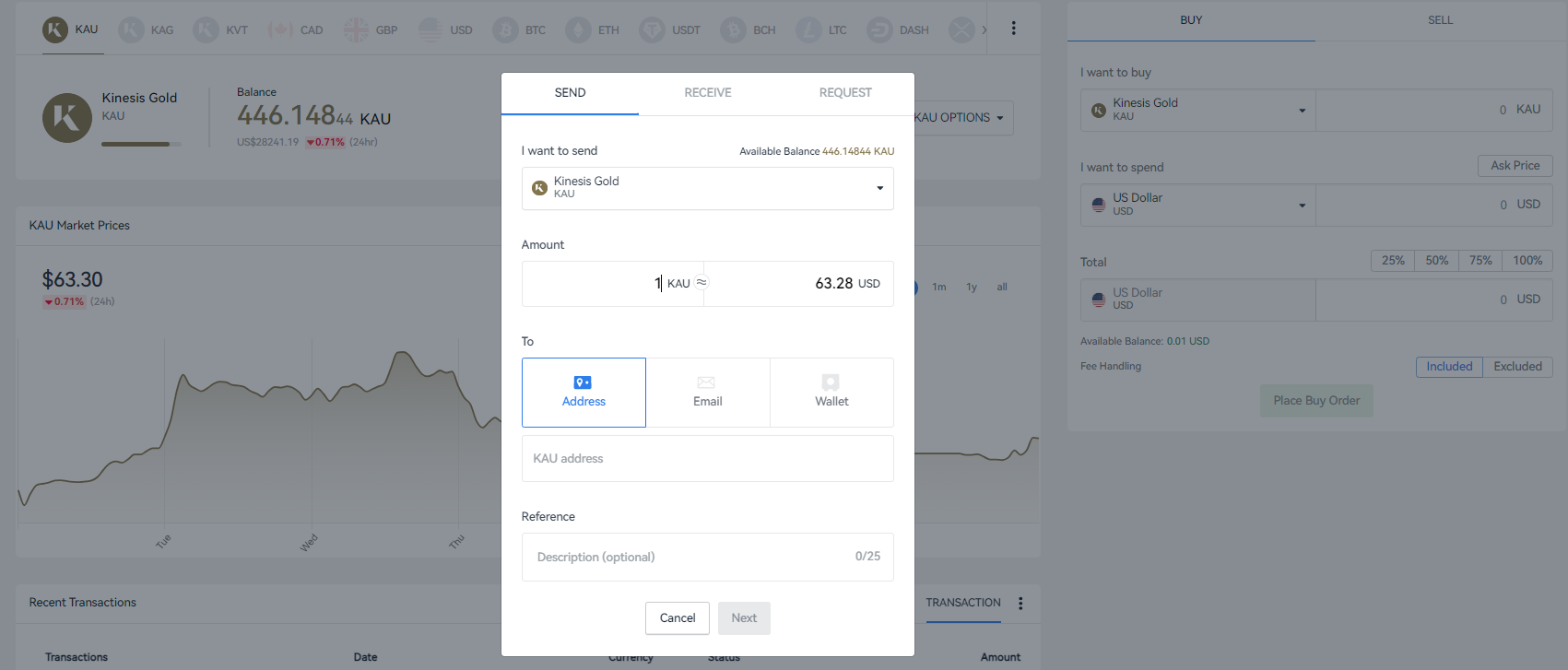 4. Once you've completed all fields, complete the transaction by pressing Next. You will be prompted with a description of the transaction, if you are happy with all details, press the confirm button to process.
You will be able to review this in your recent transactions.
Withdraw ETH from an account
1. Click on the 'Assets' tab from the left-hand navigation panel, followed by opening the account you wish to withdraw funds from (ETH in this example).

2. Click the "Send" button and a pop-up will be displayed, providing you with fields to enter the amount of ETH you wish to send, along with an estimated USD value, as well as a field for you to insert the ETH deposit address. You also have the option to add a reference description.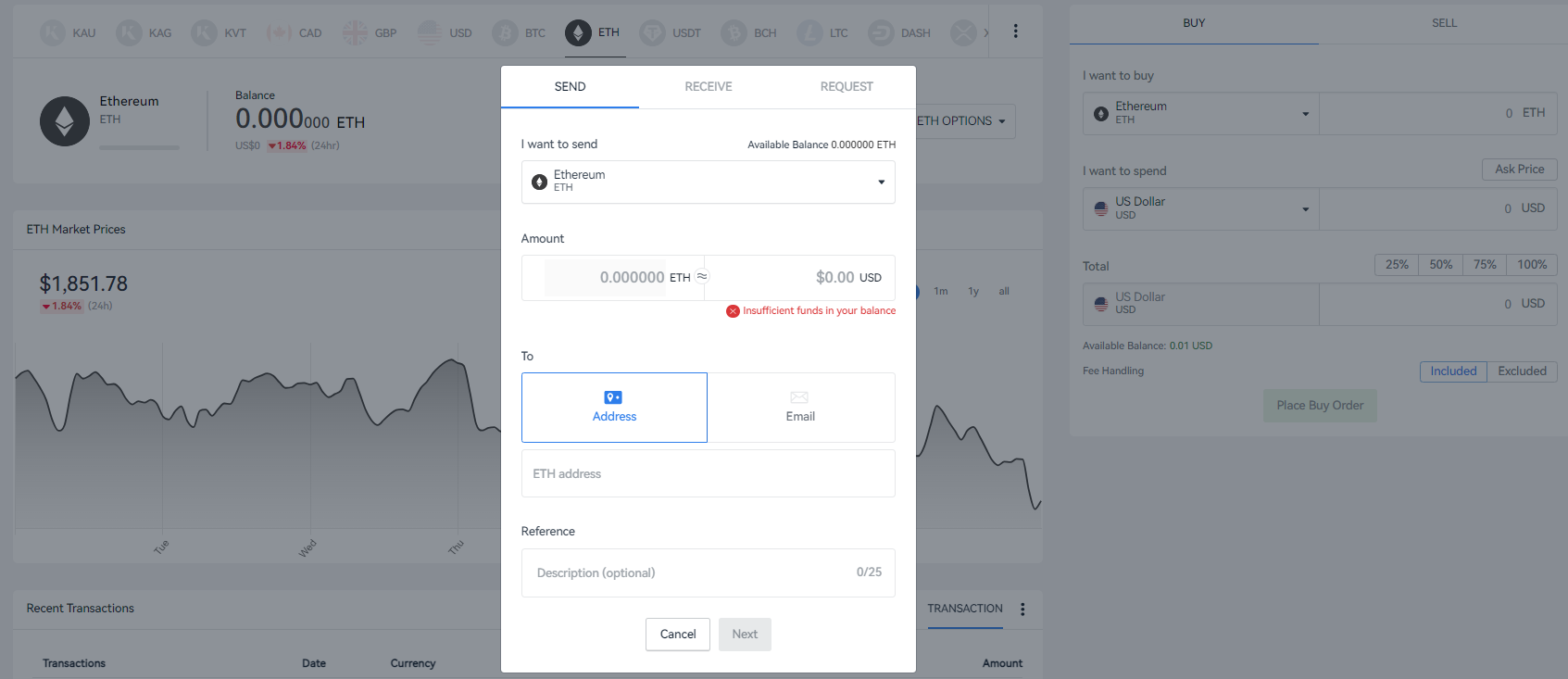 3. When you are happy with the withdrawal request details you've entered, click the "Next" button to submit your request. You will be provided with a transaction confirmation screen to review if the information in the fields is correct.
Press "Confirm" to complete the transaction, this will be reflected in the recent transactions tab.
Physical redemption request
1. Click the settings icon in the bottom left corner of the platform.
2. Select "Redemption" from the list on the settings page.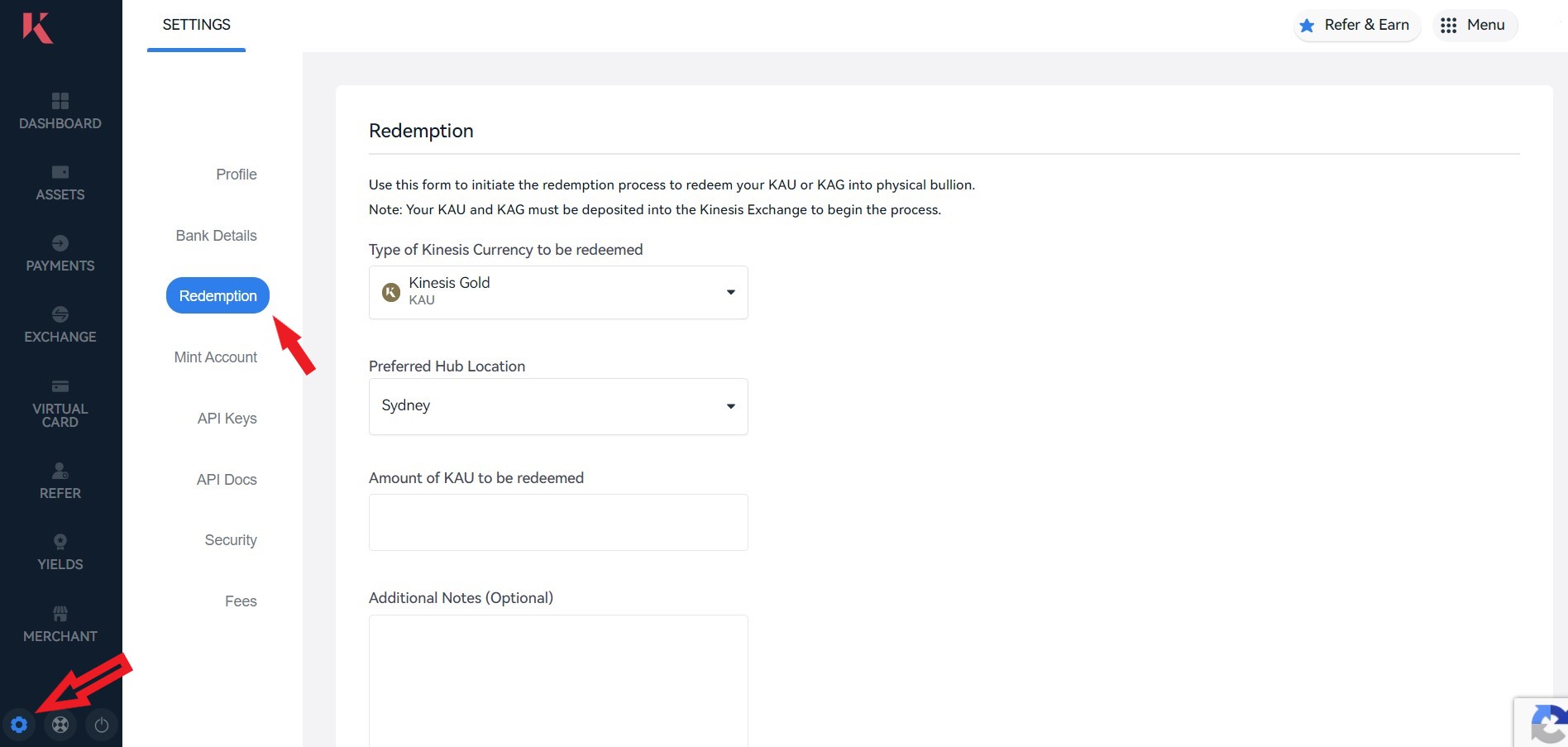 3. Complete the required information on the Redemption form, stating which of the precious metal assets, backing Kinesis gold and silver currencies (KAU and KAG) you wish to redeem. Select the preferred hub location from our global Kinesis Valuting Network, the amount to be redeemed and any additional notes for the request (optional).
Please note: Redemption of gold and silver can only be made in certain increments of 100 KAU or 200 KAG.
4. Click "Submit" when you're happy with the redemption request details.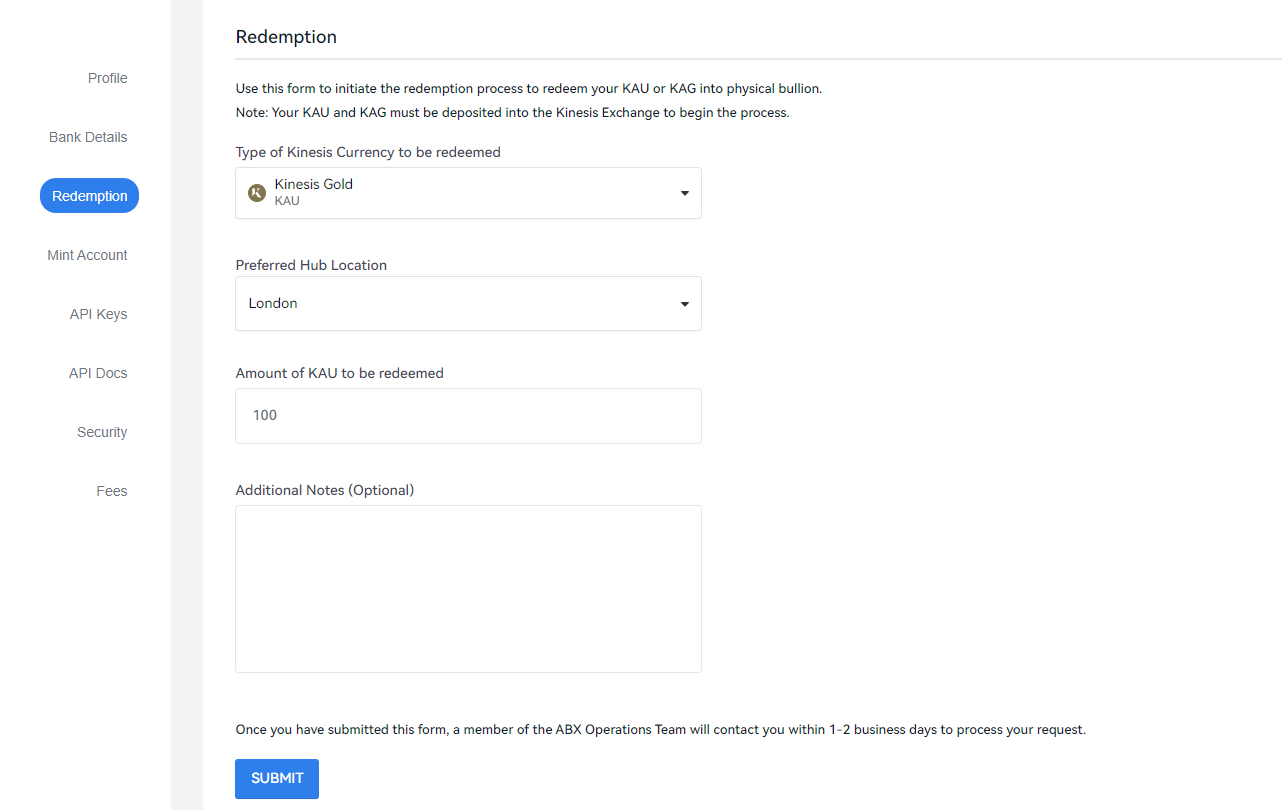 Please note: The request will be sent to the Kinesis operations team, who will contact you with the next steps within 1-2 working days.