The Referral hub - which can be accessed on the left-side navigation panel of a Kinesis account, in the Refer section - provides users with their activity summary, allowing referrers to track their total number of referees, the total transaction value they have generated and their Referrer's Yield revenue earned to date. Additionally, the dashboard enables anonymous activity tracking of the most successful referrers within the Kinesis Monetary System through the anonymous Referrer's Leaderboard.
New Referral ID - With the Referral hub, all new and existing users will be assigned a new Referral ID that consists of the user's First Name + First Letter of their Last Name + followed by a random 3-digit number. (e.g. Satoshin810).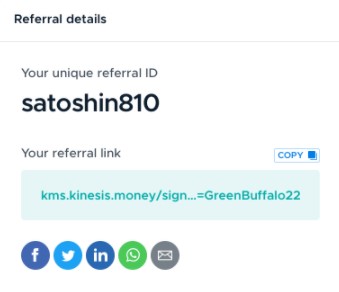 HIN number - The existing user's HIN number will remain functioning, as usual.
Importantly, the Referral hub is where your unique referral link is stored. Please keep in mind that you will need to share your referral link with potential new users before they sign up.
Unique Referral Links - How do they work?
Every Kinesis user is automatically provided with a unique referral link upon joining. It can be easily located on the left-side navigation panel of your Kinesis account, in the Refer section.
Easy sharing from the dashboard: You can copy and email your unique referral link to your prospective referees straight from the Refer section, or share your referral link via social media, simply by clicking the relevant media icon.
A new user that signs up with your Referral link will be linked to your Kinesis account as a referee.
You will receive a confirmation email that this has occurred, although for privacy reasons the referee will not be identified.
Importantly, you and your referee will be rewarded with ½ KAG when they join, verify their identity, and trade a minimum of $3000 in KAU, KAG or any crypto asset on the Kinesis Exchange - as described in our Referral Rewards Ts&Cs article.