How do I use Kinesis Pay as a merchant?
For Merchant:
The Kinesis Pay feature enables easy and convenient integration of Kinesis' bespoke payment technology with any merchant's website. Whether your business is big or small, you can now effortlessly plug it into the Kinesis monetary system payment rail and create a Merchant profile, allowing your customers to pay in KAU and KAG for your products or services.
Navigating the Kinesis Pay Merchant Dashboard
Every system user can create their own Kinesis Pay merchant profile for their business. Simply download the Kinesis Pay SDK plug-in, located at the top right of your dedicated Kinesis Pay Merchant Dashboard (available for all users) and then install it on your business website.

Please keep in mind that currently the Kinesis Pay SDK Plugin is only supported on WooCommerce platforms, such as WordPress.
From there, you can easily navigate and manage their selling activity, allowing you to track your:
Total sales
Total orders
Total order value
View your merchant performance over time on the dashboard
_______________________________________________________
How do I use Kinesis Pay as a Purchaser?
For Purchaser:
The Kinesis Pay feature enables Kinesis users to instantly and effortlessly use their KAU and KAG as payment methods while shopping online.
Simply select Kinesis Pay on the Merchant's website and then approve the transaction via mobile or desktop, to get your payment in gold and silver instantly delivered straight to the recipient's account - all without the need to enter card details.
Mobile: Scan the generated QR code with your mobile phone, then complete your purchase by clicking the 'Confirm' button.
Desktop: Copy the payment ID number from the Merchant's website to your Kinesis account to process the transaction.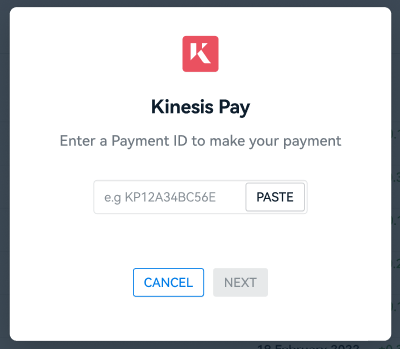 Alternatively, you can choose the 'Continue in Browser' link, located under the QR code on the Merchant's website, to which you will be redirected the Kinesis account to complete the payment.
The 'Kinesis Pay' function can be found in the waffle menu, located in the top right corner of the Kinesis account.